Find out what the best triple sec for margaritas is, plus brands to shop for, and a recipe for a margarita with triple sec.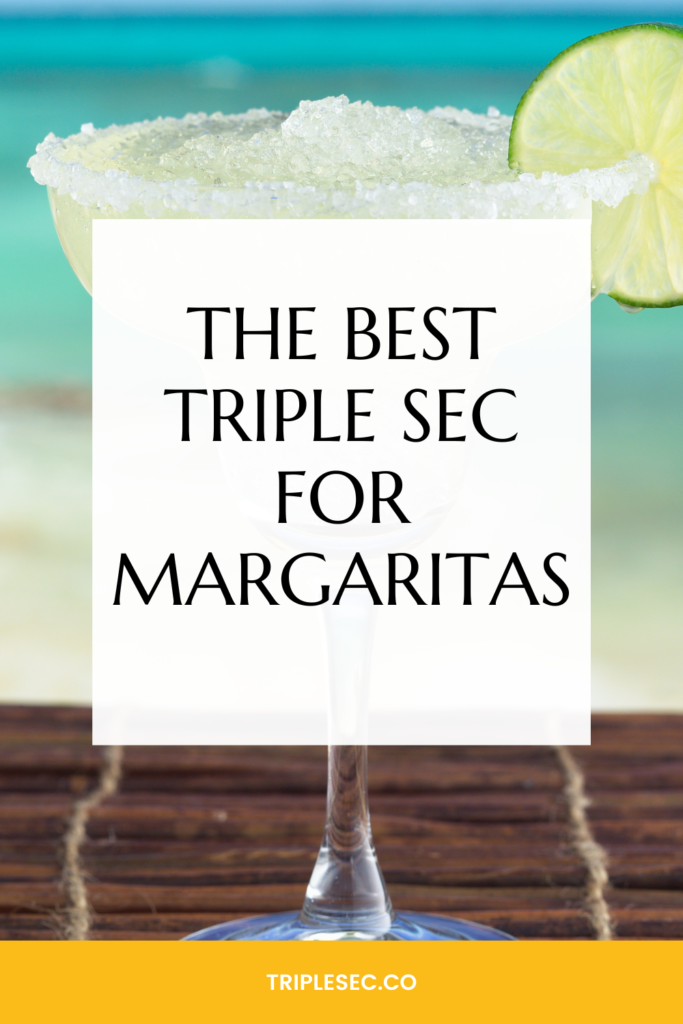 Note: I am a Drizly affiliate and am happy to recommend their service and products to you. Please know that as an affiliate, I may receive a small commission on the products you purchase after clicking through my links. For more info, please see my disclosure policy.
If you are a big margarita fan, you're probably wondering which triple sec you should buy at the liquor store to help you make your next batch.
Margaritas have only a few ingredients, so it's important to get each one of them just right to make the best possible drink.
After you've chosen a good tequila, your next step is to find out which triple sec you'll want to buy. After all, the other ingredients in a delicious margarita are easy enough to mix up on your own.
Make the best margarita by choosing the best possible triple sec. In this post, we're going to dive into some basics as to how we define what triple sec you'll want to choose, then we'll get into the top three picks for your next margarita-making session.
We'll talk about what triple sec is, what the purpose of triple sec is in a margarita, and the different types of triple sec.
We'll then go through the best options, and we'll wrap this post up with a delicious recipe to help you make the most of your chosen triple sec for the best margarita with triple sec ever.
Let's get into it!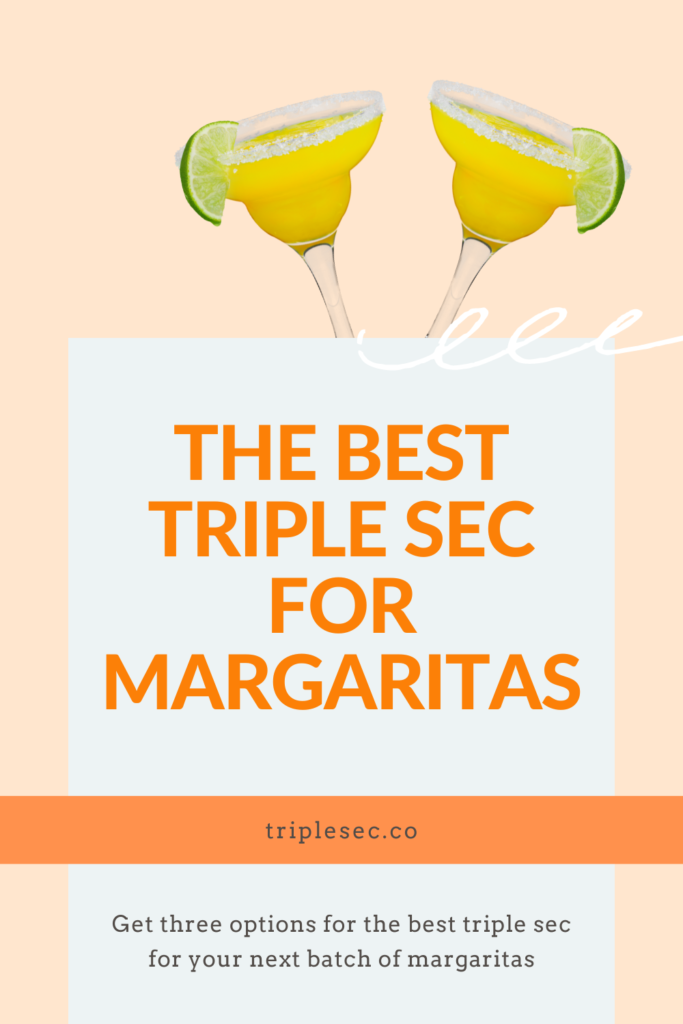 What is triple sec?
Triple sec is an orange flavored liqueur that is sweet and clear. It's used in many mixed drinks, and contains about 15 to 40 percent alcohol by volume.
This orange liqueur comes in a wide range of quality and taste. You could buy two different triple sec liqueurs at a liquor store and have a completely different experience with the two different bottles. What they do have in common is their orange flavor.
Read on: What is triple sec?
What's the purpose of triple sec in a margarita?
Margaritas call for triple sec for the orange or citrus flavor. Without that ingredient, it's no longer a margarita.
That said, while any triple sec can offer the orange flavor, a good quality triple sec will make a margarita ten times better. Not only does it offer the orange flavor, but the sweetness helps to balance the tequila in the drink.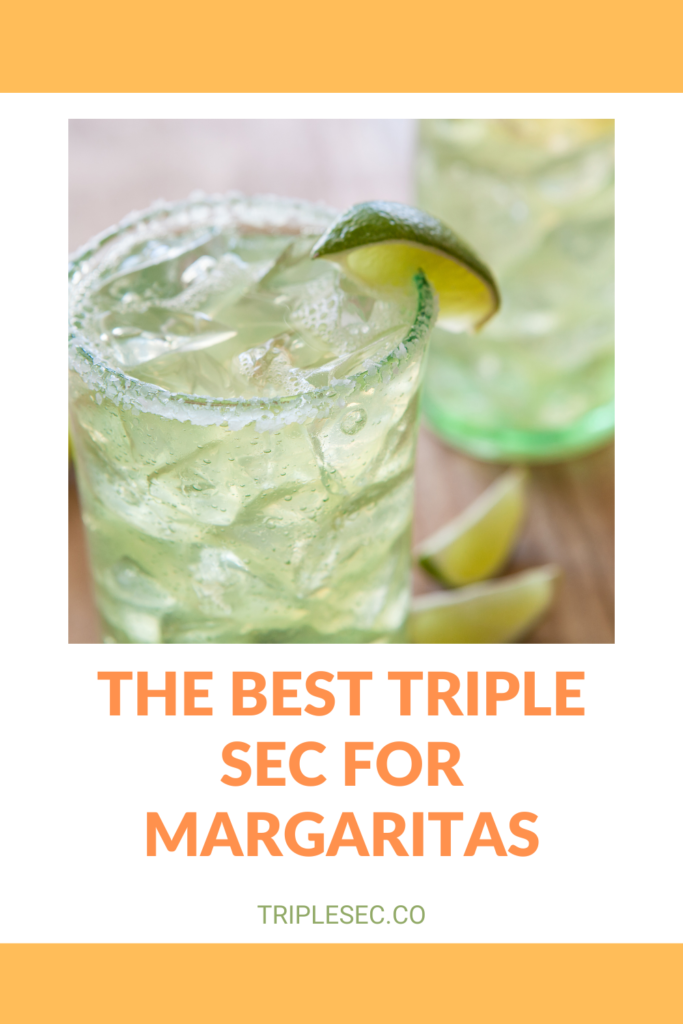 What are the types of triple sec?
Triple sec is both a category of a liquor as well as a specific type of liqueur. Let me explain.
Triple sec is a type of liquor as a category, meaning it includes all orange flavored liqueurs. Think of it like an umbrella term for all orange liqueurs.
This category of liquor has a broad range of sweetness, nuanced flavors like bitter orange peels, alcohol content, and more.
Almost any orange flavored liqueur can be considered a triple sec. This ranges from the very cheap cloyingly sweet triple sec options to the high-end Cointreau or Grand Marnier options.
Cointreau is a brand name of triple sec and often thought of as its own type of triple sec. This triple sec is orange-flavored and produced in Saint-Barthelemy d'Anjou, France and made using a proprietary recipe.
Cointreau has a sweet orange flavor and is colorless. It is most often used in mixed drinks and contains between 30 and 40 percent alcohol by volume, depending on the variety used.
Grand Marnier is another type of orange liqueur that people often think of as triple sec. Since this liquor is cognac-based, it's actually not a true triple sec, but it's used the same as triple sec in many recipes due to its orange flavor.
Grand Marnier has more bitter orange notes in flavor than other triple secs and orange liqueurs.
While there are a few different types of triple sec that most people think of when they see this term in a recipe, the thing to remember is that all three can most often be used interchangeably. Let's take a look at which is best for margaritas in the next section.
Read on: What does triple sec taste like?
Read on: Is Cointreau triple sec?
Read on: Grand Marnier vs. Triple Sec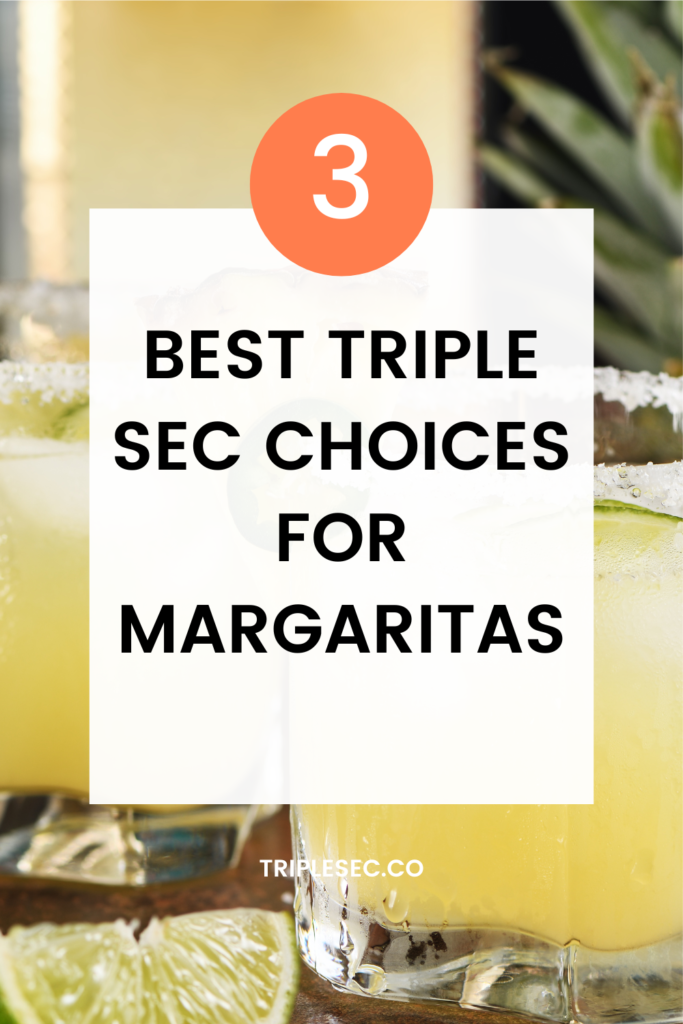 Best triple sec for margaritas – ranked
A good triple sec has more than one tasting note – it's not all just sweet fruit flavor. The most popular opinion is that you'll want to use a higher end triple sec for margaritas to make the best margarita.
Let's rank a few triple sec brands and talk about why they're the best for your next margarita night.
Best triple sec for margaritas: Cointreau
Cointreau is by and large the most popular choice for margaritas, because it is sweet, but not overly so.
It adds a smooth finish, and has nuanced flavors of bitter orange peels which helps elevate your margarita. Cointreau is a more expensive option than many triple secs you'll find at the liquor store, but if you can afford it, it's worth every penny!
Second best triple sec for margaritas: Patron Citronage Orange Liqueur
Truly, any mid-tier triple sec will work for a good margarita, but Patron Citronage has a smooth finish and the perfect amount of orange flavor without being overpowering.
Choose any from the list of the 10 Best Triple Secs of 2023 to help you narrow down your search.
Third best triple sec for margaritas: Grand Marnier
Grand Marnier is a brand name triple sec that's actually a liquor of cognac and triple sec mixed together. This is on the higher end of the price range of orange flavored liquor, and for good reason.
You'll often find margaritas made with Grand Marnier at restaurants and bars named "Grand Margarita" because while it's more expensive, it has one of the best flavors.
With the perfect balance of orange, sweet, and bitterness, this liquor is a great option for your margarita mixing at home. If you can swing it, keep a bottle of Grand Marnier in your cabinet to elevate your next margarita-making session!
Margarita with triple sec recipe
Use this information on the best triple sec for margaritas to mix up an incredible drink with this recipe!
Yield: 1 margarita
Margarita with The Best Triple Sec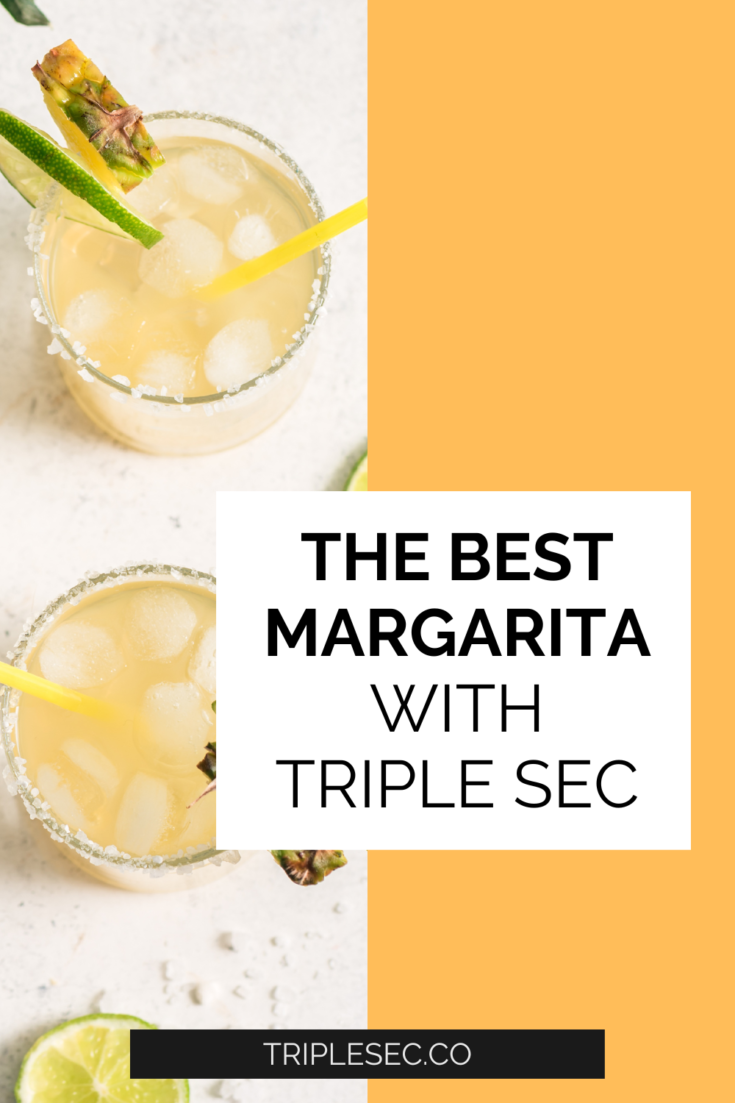 Enjoy a delicious margarita using your choice of the best triple sec to whip up this refreshing recipe!
Ingredients
1 oz fresh lime juice
½ oz simple syrup
Lime wedge and salt for garnish
Instructions
Prepare a cocktail shaker with ice or prepare a glass with a few ice cubes. You don't need to do this in one particular way - as long as the drink is cold, it will taste good.
Rim the glass with salt if you choose to. Run a cut lime wedge around the rim of the glass, then dip in a plate with salt. Set aside.
In a cocktail shaker or glass, add all the ingredients and shake or stir to combine well.
Strain into the salt rimmed glass and serve with ice. Enjoy!
If you've been wondering what the best triple sec is for margaritas, I hope this information has helped you narrow down the choices so you have only a few to choose from next time you're at the liquor store. If you can swing it, Cointreau is your best bet!