Find out what to look for in a good Blue Curaçao liqueur, as well as a list of the best brands to buy.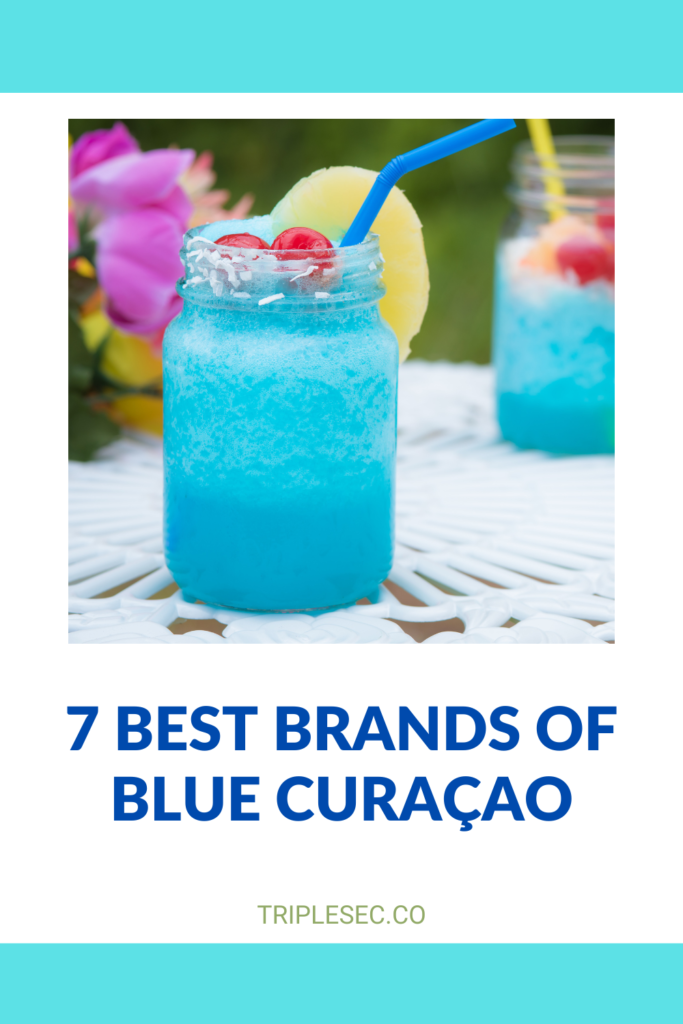 Note: I am a Drizly affiliate and am happy to recommend their service and products to you. Please know that as an affiliate, I may receive a small commission on the products you purchase after clicking through my links. For more info, please see my disclosure policy.
If you love the look of those tropical drinks that are bright blue, you're no stranger to Blue Curaçao. This neon blue color comes from one liqueur and one liqueur only – Blue Curaçao.
There are so many options of Blue Curaçao on the market, so it's hard to decide which one will be best to add to your home bar for making those delicious and fun-looking blue drinks at home.
In this post, we're going to talk about what Blue Curaçao is, how it's used most commonly, and go over three of the qualities to look for in a Blue Curaçao bottle, so you make a good choice.
We'll wrap up with a list of seven of the best Blue Curaçao brands out there – including one non-alcoholic pick too!
Let's get into it!
What is Blue Curaçao?
Blue Curaçao is a liqueur with a signature bright blue color and an orange flavor. It is a liqueur made with bitter orange peels from the island of Curacao.
Though the orange peels are bitter in flavor, they are very aromatic and lend a bright citrus flavor to this liqueur. There are many different colors for Curacao, but the most popular are orange and blue.
Read on: What is Blue Curaçao?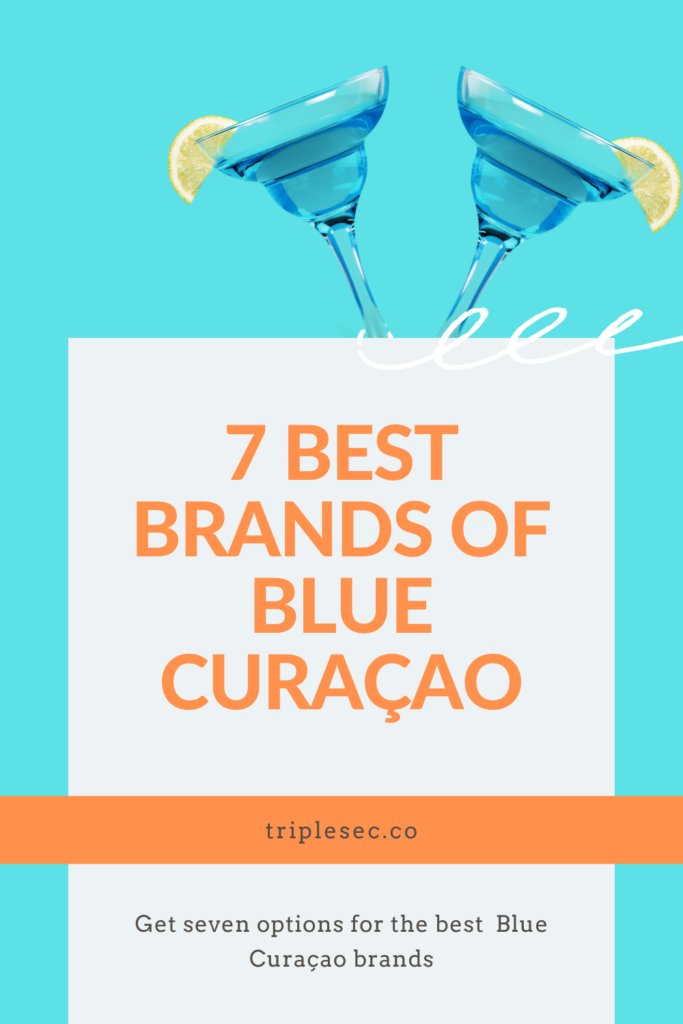 How is Blue Curaçao used?
Blue Curaçao is used for some popular blue-colored cocktails and drinks. Here are some of the more popular blue cocktails that blue Curaçao is used in:
Blue Margarita
Blue Hawaii
Blue Lagoon
Aqua Velva
Bluebird
What does Blue Curaçao taste like?
Blue Curaçao tastes similar to triple sec, an orange liqueur, but with a slightly bitter finish. It is an orange liqueur and can be used in the same way you'd use a triple sec.
The main flavor of blue Curaçao is going to be oranges or citrus from any brand that you purchase. You might also find some subtle spiciness or herbs in many brands of this liqueur.
Read on: What does Blue Curaçao taste like?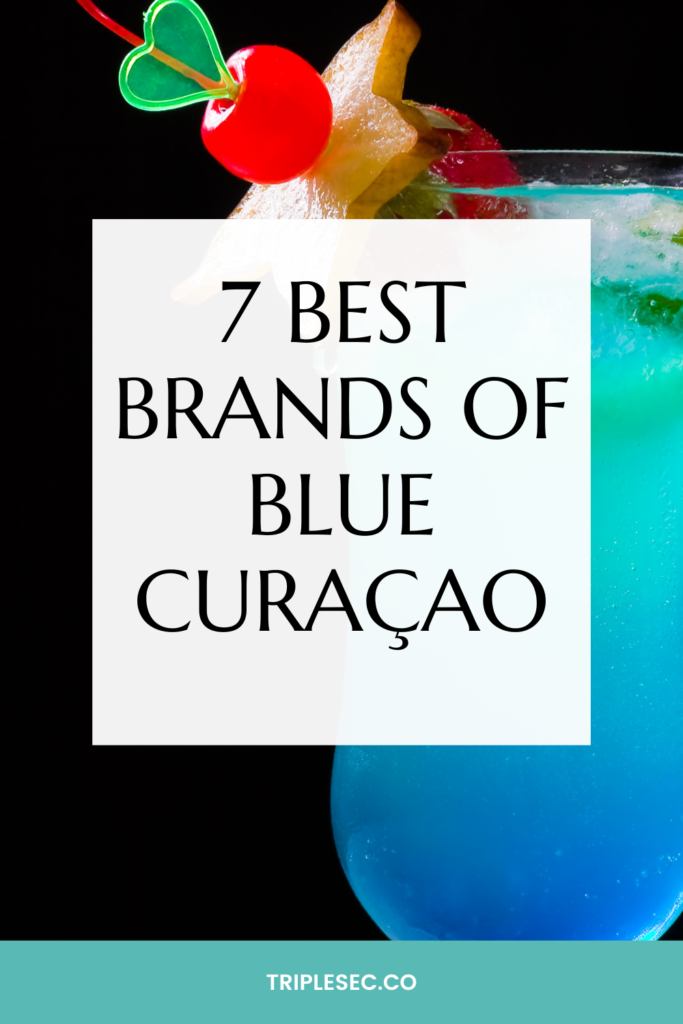 How to choose the best Blue Curaçao
There are three different things to consider when choosing a blue Curaçao for making cocktails at home: quality, flavor, and alcohol content. You might also want to prioritize the blue color that comes from this liqueur depending on what you're using it for.
Quality of Blue Curaçao
As with all liqueurs you purchase, you're going to want to aim for the highest quality you can afford. Even with a higher price tag, that doesn't mean that its a better product overall.
Look for a brand of blue Curaçao that doesn't have a lot of artificial flavors, but relies more on natural flavors. It's obvious from the color that artificial colorings have been used in probably every bottle of blue Curaçao, but it's a good idea to look for a higher quality of ingredients in your blue Curaçao.
You can tell the quality of ingredients by finding an option that has more than one flavor note. Look for a brand that has the flavor of Lahara oranges, but other citrus fruits as well. Maybe even some spices or other flavorings.
Flavor of Blue Curaçao
Find a brand of blue Curaçao that doesn't hit just one flavor note, but has an obvious flavor that hits the notes of a traditional Curaçao of bitter orange peels.
Look for a blue Curaçao that isn't too cloyingly sweet, but is balanced by the bitter flavor of the orange peels. Spices and other flavors might also be added to your blue Curaçao, so keep in mind what your preference is when using this liqueur.
The last thing to make note of when considering the flavor of blue Curaçao is the smoothness of the finish. This will ensure that when it's added to your mixed drinks that it doesn't overpower the other flavors, and becomes the star of the show if it's not meant to be.
Alcohol Content of Blue Curaçao
If you plan to use blue Curaçao as a mixer in your cocktails, you may want to pay attention to the alcohol content. Most blue Curaçao ABV range from 15% to 40%.
If you are trying to keep the drinks you're making a lower alcohol content, choose something lower down the scale of ABV. Or if you know that what you're making includes other liqueurs or liquors with a higher alcohol content, you may want to pull back the amount of blue Curaçao you use in a recipe or use a lower ABV option.
Another thing to think about is how the alcohol content affects the flavor of the drink you're making. A higher alcohol content in your blue Curaçao may make your cocktail much stronger and the flavor overpowering.
On the other hand, choosing a blue Curaçao with too low an ABV and you may feel like you're drinking too much sugar and not getting any alcohol in your final cocktail.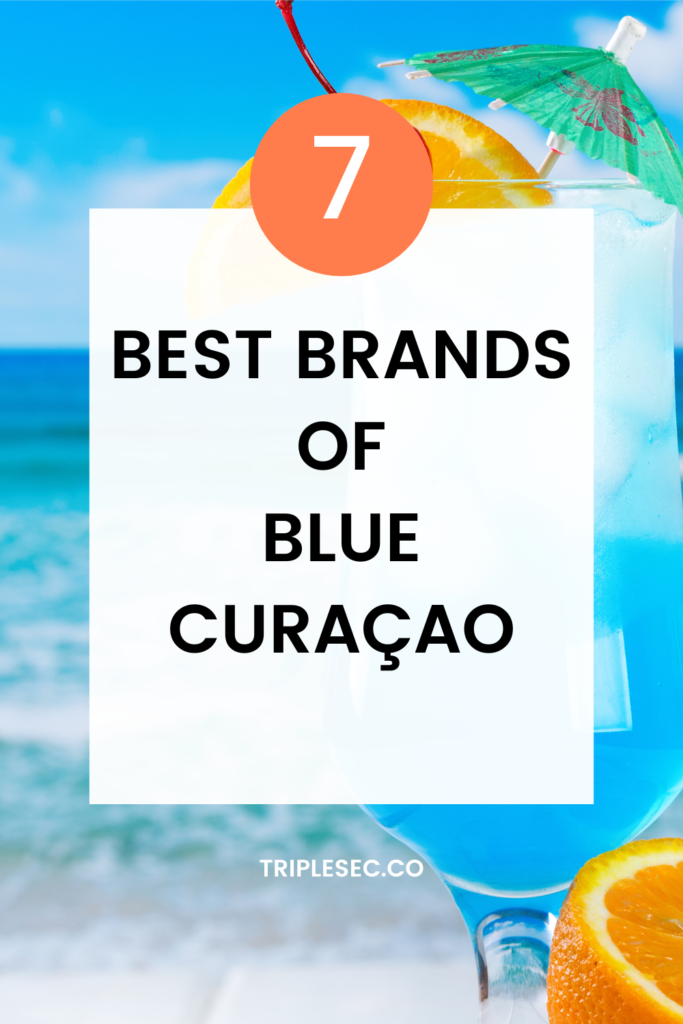 Best Blue Curaçao Liqueurs
There are so many blue Curaçao liqueur options available on the market right now, so I've done the work to narrow down only the best options. Each of these has been looked at through the lens of the three qualities we looked at in the last section: quality, flavor, and alcohol content.
Use this list to help you narrow down your options next time you're shopping for a blue Curaçao to add to your home bar and mix up your favorite blue cocktails.
Giffard Curaçao Bleu
Giffard makes their blue Curaçao in France and has the perfect bitter orange peel flavor that we're all after when reaching for this liqueur.
It has an ABV of 25% so it can be added as a main ingredient or as a flavor addition to your favorite blue cocktail.
De Kuyper Blue Curaçao
This popular brand of blue Curaçao is surprisingly good despite its lower price. It has a great balance of orange flavor with a less spicy finish than other options.
This brand has an ABV of 27%, so a little higher than others on the list. Keep this in mind as you add it to your drinks and how strong you want the final result to be.
Bols Blue Curaçao
Bols brand of blue Curaçao shows off the flavors of Lahara oranges, as well as other orange varieties, including Kinnow and Valencia oranges.
With a strong orange flavor, there are also herb notes in this liqueur, making it a great option to add some nuanced flavor to your drinks.
Bols Blue Curaçao has an ABV of 24%, so about mid-range compared to others on this list. It's slightly higher than some options on the market, so keep this in mind when you're mixing it with stronger liquors in your mixed drinks.
Drillaud Blue Curaçao
Drillaud makes a blue Curaçao that is considered one of the better and highest quality products in this space. Their blue Curaçao has an ideal balance of bitterness, sweetness, and subtle spicy flavor.
The ABV of their blue Curaçao is about 25%, which makes it perfect for adding a blue color, orange flavor, and reasonable alcohol content that won't overpower your drink.
Llords Blue Curaçao
This brand of blue Curaçao combines flavors from Laraha bitter orange peels and a few other herbs.
This provides a somewhat distinct flavor, but it is still very tasty. This is yet another choice that would be fantastic as a base for cocktails.
This one is a little different due to the addition of herbs, which provide an extra flavor boost that could easily spice up a drink and provide some depth.
With an ABV of 15%, you can feel okay adding this to a drink with other strong liquors without the flavor of the Curaçao overpowering the drink.
Hiram Walker Blue Curaçao
Hiram Walker has a blue Curaçao option that has a more delicate flavor than some of the others on the list. This brand still tastes of oranges, but in a less punchy way. Instead of the traditional Lahara oranges, Hiram Walker uses the orange peels from Caracara oranges.
The ABV of this brand of blue Curaçao is 15%, so you can enjoy it in just about any of your favorite blue cocktails and mixed drinks without adding too much alcohol or an overpowering flavor.
1883 Routin Blue Curaçao Syrup
This is the best blue Curaçao syrup that's non-alcoholic. You can add this to drinks for the blue color and flavor of oranges without any of the alcohol.
Enjoy this in your favorite cocktails, mixed drinks, and if you're going non-alcoholic – mocktails. You can get the same beautiful blue color that's fun to drink, but safe for kids and enjoyable if you're trying to knock back the alcohol content of some of your favorite alcoholic drinks.
If you've been looking for the best blue Curaçao brands, I hope this post has given you some insight into what to look for and some brands to help you narrow down your search next time you're shopping for this liqueur.