Find out what triple sec tastes like, what this liqueur is, made from, and what the best substitutes are for this in other cocktails.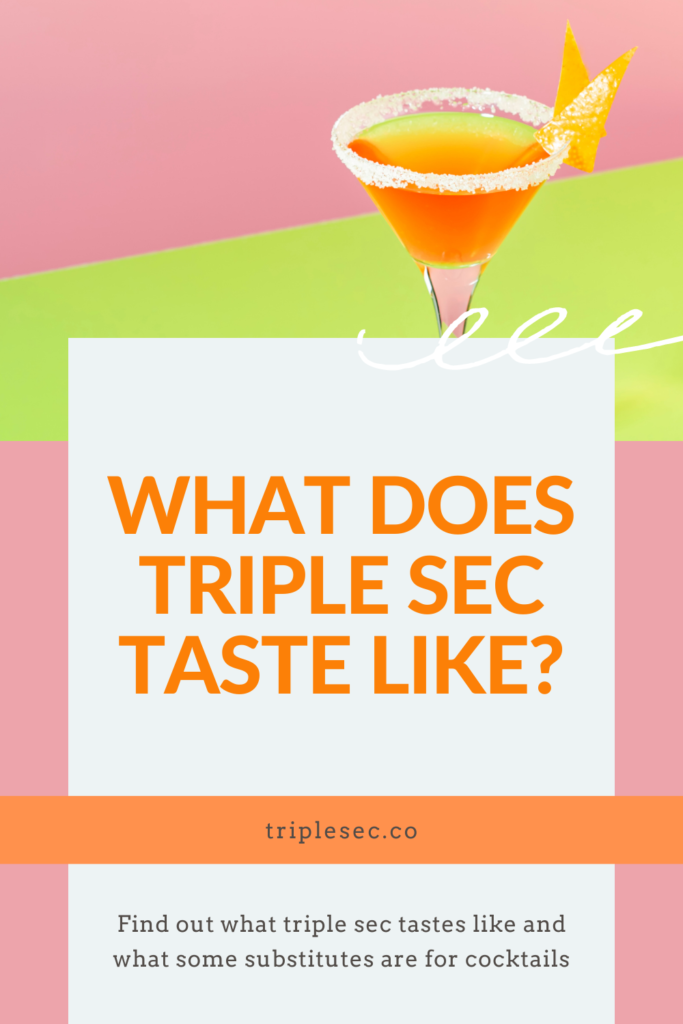 Note: I am a Drizly affiliate and am happy to recommend their service and products to you. Please know that as an affiliate, I may receive a small commission on the products you purchase after clicking through my links. For more info, please see my disclosure policy.
If you've come across a cocktail recipe that calls for triple sec and haven't ever kept this liqueur on hand in your home bar, you may be wondering what it tastes like. If so, you're not alone. After all, the name of this liqueur doesn't give you even one hit at what flavor it lends to a cocktail or mixed drink.
In this post, I hope to answer some of your questions about triple sec. Namely what it is, what it's made from, used for, and give you the best description of triple sec without having you be able to taste it for yourself.
To help you in case you're realizing you don't have this ingredient on hand for a cocktail tonight, I'm sharing a few triple sec substitutions. This will help you understand the flavor even a little better, but also make sure you can easily replace this in your recipe without having to go out to the store ASAP.
Let's talk about triple sec flavor and what you need to know about this liqueur.
What is triple sec?
Triple sec is an orange flavored liqueur that is sweet and clear. It's used in many mixed drinks, and contains about 15 to 40 percent alcohol by volume.
This orange liqueur comes in a wide range of quality and taste. You could buy two different triple sec liqueurs at a liquor store and have a completely different experience with the two different bottles. What they do have in common is their orange flavor.
Read on: What is triple sec?
What is triple made from?
Triple sec is made by infusing alcohol, generally made from beet sugar, with the peels from bitter not-quite-ripened orange peels during the maceration process.
The orange flavor comes from the essential oils that come out while the oranges and the alcohol combine for a few days. The liqueur is then distilled, and may be completed there or more beet sugar, water, or alcohol may be added.
What is triple used for?
Triple sec is most commonly used in mixed drinks and cocktails that call for an orange-flavored liqueur. Triple sec can also be used in other recipes, like in baked goods and cakes.
Here are a few popular triple sec cocktails that you're likely to find on menus at restaurants and bars:
Margarita
Cosmopolitan
Kamikaze
Man o'War
Bourbonella
Velvet Hammer
Cable Car
Orange Martini
What does triple sec taste like?
Triple sec at its most basic understanding is a liqueur that tastes like oranges. The sweetness, subtlety of orange flavor, bitterness, mouthfeel, and even the quality can vary greatly from one triple sec to another.
A higher quality triple sec may have a very clean, bright orange flavor with a slight sweetness. The orange may taste slightly bitter and the alcohol taste is very obvious. A brand like Cointreau fits into the category, where the level of detail in choosing ingredients matters greatly, as does the filtering and processing of their product.
A lower end triple sec can be overly sweet with an overwhelming artificial orange taste. This type of triple sec tastes more like sugar and less like alcohol, though there is still some in this product. A brand like DeKueyper or other lower alcohol content triple sec will fit into this category.
Neither of these is better, it comes down to preference and what you're looking for in a triple sec in your cocktail or mixed drink. If you prefer a more obvious orange flavor that gets mixed in with other juices or sweet ingredients, you might not mind the lower end triple sec option.
On the other hand, if you're serious about your mixology, you might opt for a more higher end option that allows the flavors of the triple sec to shine through and appreciate the subtleties and quality of the liqueur.
What can I substitute for triple sec in a cocktail recipe?
There are a number of options for substitutions for triple sec in cocktails. You first can choose whether your substitution will be alcoholic or non-alcoholic. Or simply which of the options you have on hand.
Here are a few of the top triple sec substitutes with alcohol:
Cointreau
Grand Marnier
Orange Curaçao
Generic orange liqueur
These are some of the non-alcoholic substitutes for triple sec:
Orange extract
Orange juice
Orange juice concentrate
Monin triple sec syrup
Read on: Triple sec substitutes
If you've been wondering what triple sec tastes like, I hope this post has helped give you a better picture of what to expect when you buy this to use in your next cocktail or mixed drink.
If you're wondering what it tastes like so you can find a substitute for it, I also hope this opens up some options for you using what you already have in your home bar. There are a few easy options to replicate the flavor of triple sec either alcoholic or non-alcoholic.