Find out what Grand Marnier is, what it's made from, what drinks it's used for, and the alcohol content.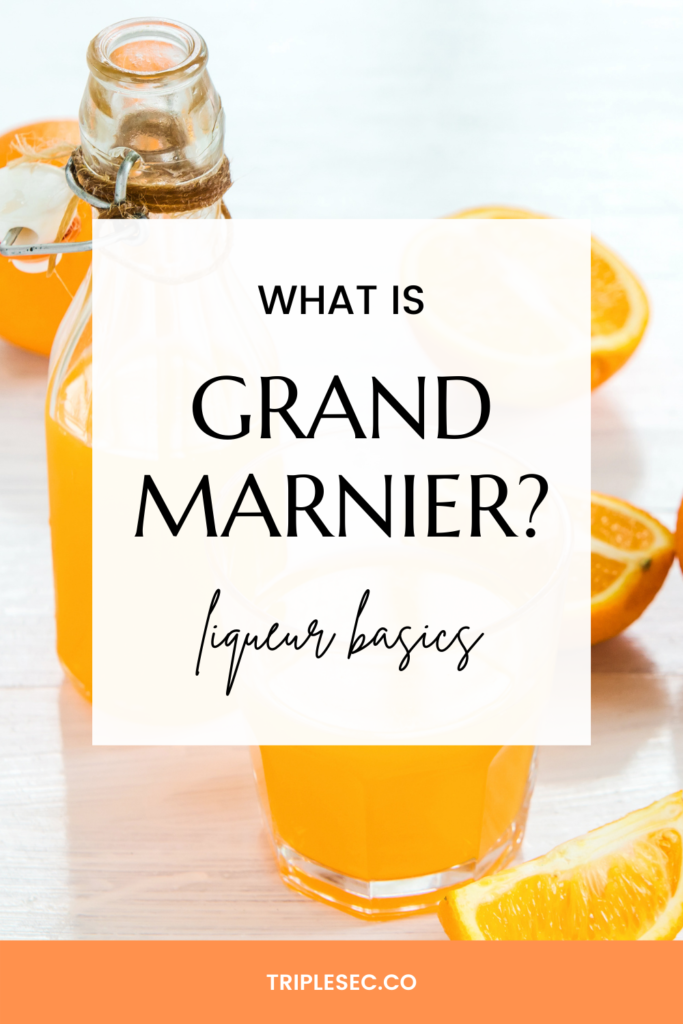 Note: I am a Drizly affiliate and am happy to recommend their service and products to you. Please know that as an affiliate, I may receive a small commission on the products you purchase after clicking through my links. For more info, please see my disclosure policy.
If you love mixed drinks and cocktails, you're probably no stranger to the popular liqueur, Grand Marnier. But if you've never looked into this liqueur, you might be wondering what it is and what it's used for.
In this post, learn all the basics about this liqueur, when to use it, and what it's made from in this post. We'll cover all the bases so you can order drinks with Grand Marnier with confidence next time you're at a restaurant, bar, or staring at the rows and rows of aisles at the liquor store.
What is Grand Marnier?
Grand Marnier is an orange liqueur that is made in France. This liqueur has a base of cognac and has a distilled essence of bitter orange and sugar added to it.
This liqueur was created in 1880 just outside Paris in a city called Neauphle-le-Château.
What is triple sec?
Triple sec is an orange flavored liqueur that is sweet and clear. It's used in many mixed drinks, and contains about 15 to 40 percent alcohol by volume.
What is Grand Marnier made from?
Grand Marnier is a liqueur that's made of a blend of cognac brandy and a liqueur flavored with bitter orange essences.
Where does Grand Marnier get its name?
According to the Grand Marnier website, the name comes from Cesar Ritz, the founder of the Ritz Hotel, who was quoted as saying "A grand name for a grand liqueur!" in response to his friend Louis-Alexandre Marnier Lapostolle's new liqueur.
What kind of alcohol is Grand Marnier?
Grand Marnier is a blend of cognac and bitter orange liqueur.
What can be substituted for Grand Marnier?
While Grand Marnier is its own unique drink, it can be substituted in many cocktails and drinks for another orange flavored liqueur. The closest substitute would be Cointreau, however any triple sec or orange curacao will work to provide a similar orange flavor you may want to substitute in recipes.
What is the alcohol content of Grand Marnier?
The alcohol content of Grand Marnier is 40% ABV, which is about the same as Cointreau, another orange flavored liqueur.
What is the best way to drink Grand Marnier?
The best way to enjoy Grand Marnier is in cocktails that call for an orange liqueur. Here are some of the most popular Grand Marnier cocktails you might want to order next time you're at a restaurant or bar, or looking to mix one up at home:
Cadillac Margarita
Cosmopolitan
Sidecar
Beachcomber
Cointreau sour
Kamikaze
Mimosa
Mai Tai
Can I drink Grand Marnier straight?
While most folks use Grand Marnier mixed into cocktails, it isn't too crazy of an idea to serve it straight on ice. Since this liqueur is 40% alcohol, a little goes a long way when you're sipping it!
If you've been wondering about some of the basics about Grand Marnier, when to use it and what it's made of, I hope this post has helped you get the answers you've been looking for.
There are so many great drink recipes that use Grand Marnier, so next time you're looking to uplevel your next margarita or Cosmopolitan, try using this liqueur!