Find out if blue Curaçao contains alcohol and whether or not you'll be able to use it in your favorite mocktail recipes. Plus a few non-alcoholic substitutions.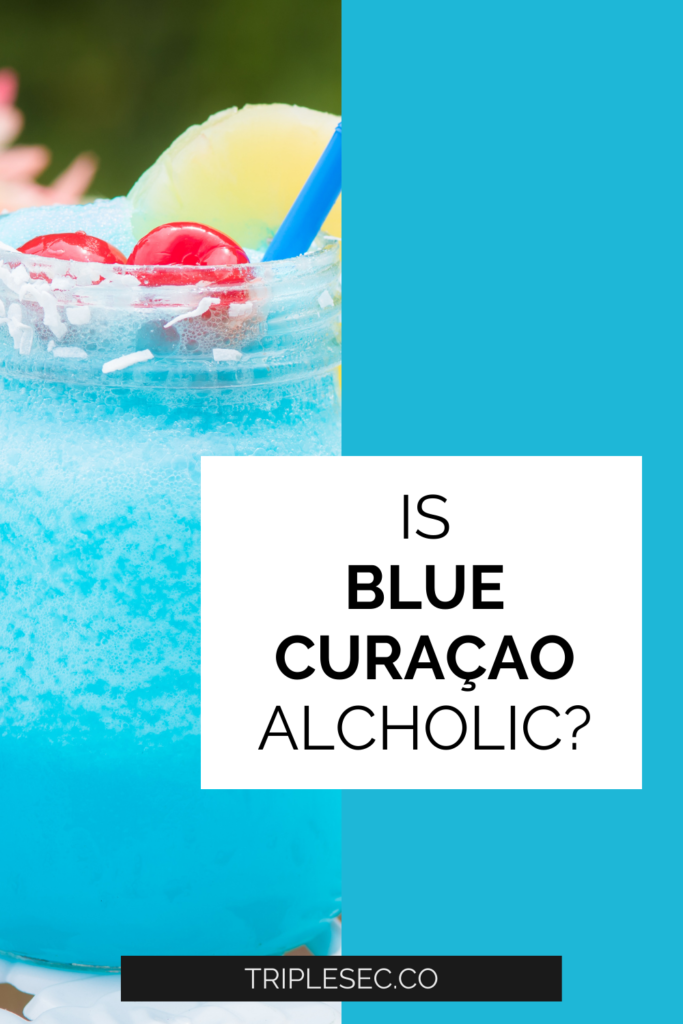 Note: I am a Drizly affiliate and am happy to recommend their service and products to you. Please know that as an affiliate, I may receive a small commission on the products you purchase after clicking through my links. For more info, please see my disclosure policy.
If you are avoiding alcohol for a health reason, personal reason, or simply can't stand the taste or how it makes you feel, you may be wondering which liquors and liqueurs contain alcohol.
Whether you've found yourself with a recipe that calls for blue Curaçao and you don't have it on hand or you're trying to mix up your favorite mocktails and just need to know if you can use triple sec in your recipe, you're in the right place.
Find out in this post what blue Curaçao is, if and how much alcohol it contains, and what your options are for substituting this ingredient in your favorite cocktail and mocktail recipes.
What is blue Curaçao?
Blue Curaçao is a blue liqueur with a signature orange flavor. It is a liqueur made with bitter orange peels from the island of Curaçao in the Caribbean.
Though the orange peels are bitter in flavor, they are very aromatic and lend a bright citrus flavor to this liqueur. There are many different colors for Curacao, but the most popular are orange and blue. They all have an orange taste regardless of the color.
Is blue Curaçao alcoholic? Does blue Curaçao have alcohol?
Blue Curaçao contains alcohol and it is used in a lot of popular cocktails and mixed drinks. If you like Blue Hawaii, Blue Lagoon, or Blue Margarita drinks, you're probably familiar with the fact that these drinks contain alcohol.
Though the alcohol comes from another liquor like rum or tequila, alcohol is in this blue liqueur as well.
How much alcohol is in blue Curaçao? Blue Curaçao alcohol content
Blue Curaçao contains alcohol, about 15 to 40% alcohol by volume, depending on the brand that you purchase. For example, Mr Stacks brand of blue Curaçao has a 15% ABV whereas Senior & Co has a Curacao that has a 40% ABV.
Can you buy non-alcoholic blue Curaçao?
Though a true Curaçao contains alcohol, you can definitely buy a similar syrup that mimics the blue color and orange flavor. The best one I've been able to find is by the Monin brand.
Non-alcoholic blue Curaçao substitutes
If you want to make a mocktail or are looking for ways to reduce the alcohol in your favorite blue drink, try the Monin Blue Curaçao syrup in your favorite blue drink recipes.
Other brands that offer non-alcoholic blue Curaçao are DaVinci, Torani, and 1883 Maison Routin.
If you don't care much about the color or are willing to add blue food coloring to your drinks, you can also substitute orange juice or orange extract in a pinch to get the same flavor or blue Curaçao without any of the alcohol.
If you've been wondering if this popular blue colored liqueur blue Curaçao contains alcohol and is easy to substitute if you're avoiding alcohol, I hope this post has given you the answers to any questions you might have on this topic.
Blue Curaçao contains alcohol, however there are some blue Curaçao syrups that you can use if you're looking for a non-alcoholic substitution.